Tap & Cap
What is Tap & Cap?
Tap & Cap is the new, easy way to buy your travel. Simply tap when you get on board and tap again when you leave – no paper required!
You can pay by:
Visa
Mastercard
Apple Pay
Android Pay
The Tap & Cap system will automatically deduct the fare, capping it at a maximum of £5 a day or £20 a week, regardless of the number of trips you take.*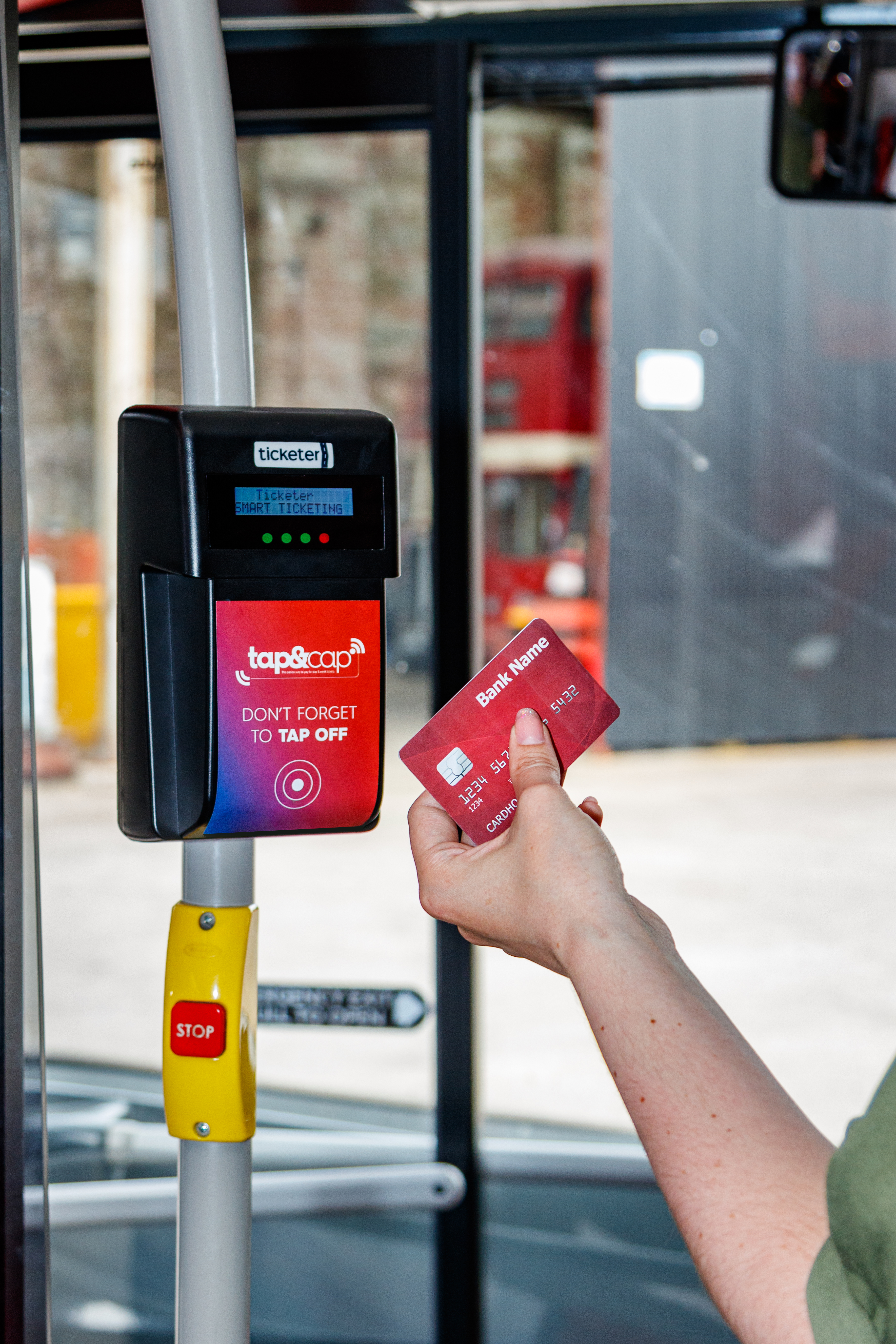 Who is it for?
Tap & Cap is the best option for anyone buying an Adult Single or making more than two journeys in any one day. If you need to buy tickets for more than one person, you will need to buy your ticket from the driver.
Can my child use Tap & Cap?
Tap & Cap will always charge the Adult Single fare for the journey made, as the system cannot tell if you are an adult or a child from your payment card.
How does it work?
Simply tap on at the driver's ticket machine at the start of each journey and tap off at the end of each journey on the tap off reader just by the exit door. You'll need to use the same payment method each time (your Visa/Mastercard payment card, or Apple Pay or Android Pay device).
You don't need to tell the driver where you are going, and you don't need a paper ticket. This all helps to make boarding our buses easier and faster.
Why should I bother with Tap & Cap?
If you make more than two journeys in a day, Tap & Cap will guarantee you the best price for your trips, capped at £5 per day or £20 per week.* It'll also make it quicker for you and you don't have to worry about keeping hold of a paper ticket.
How do I know what I will be charged?
If you use Tap & Cap, we will give you the best available daily single fare. The price of any journeys you make will be calculated by the system and charged to your account at the end of each day. The system will automatically calculate your best available daily fare depending on what fare zone you have travelled in. Your journey will automatically be capped once you reach the Day or Week Ticket price.
What if I only make one or two trips?
The system will record the bus stop you have boarded at, and the bus stop you alight at, and your fare will be charged at the rate of a single journey.
Can I buy a Week Ticket?
Tap & Cap will automatically cap your payments once you've travelled for 4 days out of 7. For example, if you catch the bus Monday-Friday, you'll be charged the Dayrider price of £5 on Monday, Tuesday, Wednesday and Thursday, but won't be charged on Friday (or any of the journeys you make over the weekend).*
What buses use Tap & Cap?
All Plymouth Citybus services have Tap & Cap readers. If you travel with another transport provider, they will charge you separately.
All Go Cornwall Bus services have Tap & Cap readers, along with our Transport for Cornwall bus partners Cornwall by Kernow, Hopley's Coaches, OTS and Travel Cornwall, so you can travel with any of us knowing that that most you'll pay is £5 a day.
How can I check what I have been charged?
You can check your journey and fare history through our Contactless Customer Portal. The portal will be branded littlepay. You will need the details of the payment card you used on the bus to track your trips. You will be able to see transactions for the last 90 days – if you need details of a journey more than 90 days ago, please get in touch.
Do I have to register my card first?
To use Tap & Cap, there is no need to register or sign up – just use your contactless card or device to tap on and off. However, if you want to see your trip history, you will need to enter your card details in the customer portal. If you use Apple Pay, Google Pay, or another digital wallet service, you simply need to enter the details of the physical card associated with your digital wallet.
Can I use more than one bank card?
To get the best available daily fare you will need to use the same payment method that day. If you use other contactless cards or payment methods, your transactions will not be linked.
This is the case even if the payments come from the same account – for example, your phone's Apple Pay will register as a separate payment method from your watch's Apple Pay, even if they link to the same bank account.
Do I need to take my card out of my card/wallet?
We recommend you do – if you have more than one contactless card in your wallet, the machine might register and take a payment from each.
Who is Tap & Cap suitable for?
Adults who are making multiple trips in a day or week.
Who does it not work for?
It is not suitable for:
Child fares
Group tickets
Customers buying return tickets that are less than the daily capped zone price
Customers purchasing a transfer fare from one route to another
Customers who wish to buy promotional discounted tickets from the driver
These will continue to be available on the bus as paper tickets and you can still pay for these tickets using contactless payment devices or cash. You do not need to tap off when buying paper tickets.
What happens if I tap on by mistake?
The driver will be able to see when you tap on, and will be able to cancel one of the taps.
What happens if I forget to tap off?
You will be charged the single fare to the end of the route, and any capping will be applied as if you have travelled to the end of the route. This is why it's important to remember to tap off at the end of each journey. If you do forget to tap off and are overcharged as a result, please contact our customer experience team on tapandcap@plymouthbus.co.uk
How will it appear on my bank statement?
You will see a charge to your bank account from Plymouth CityBus. You will see one charge for each journey that is made, and the total added together will be no more than the cost of a Dayrider. Any journeys that are made after you reach the day or week cap will not be charged, so you will not see a transaction for these journeys.
What if the bus I am on breaks down and I am asked to transfer to another bus?
Our buses don't often break down, but on the rare occasion this happens your driver will tell you what to do. You will need to tap off the bus you started your journey on (the bus that broke down), and do not tap on or off the bus you are transferred to. For any additional trips you make that day, tap on and tap off as normal. If you can't tap off the bus, and are charged more than you expect, please contact customer experience.
What if I get asked to use my PIN?
Our machines don't have the facility for you to put in your PIN – simply tap.
Troubleshooting
My new bank card doesn't work
If you have a new or replacement contactless card, you might not be able to make a contactless payment until you've made your first chip and PIN transaction. This is a security measure applied by your card issuer.
Also check the 'Valid From' date to make sure it's ready to be used.
My card works at other retailers but not on Tap & Cap
If you can make chip and PIN transactions with your card but it's not working for travel on our services, it may be because:
Your card wasn't issued in the UK - some contactless cards issued outside the UK aren't accepted on our services
Your card isn't contactless - it doesn't display the contactless payment symbol.
My card has stopped working
Sometimes your card won't be accepted, even though you've used it before to travel on our services.
This could be because of unpaid fares.
Sometimes your card may be accepted by our card readers, but the payment is declined by your card issuer.
If this happens your journey will not have been paid for, and you won't be able to use your card for Tap & Cap until the unpaid fare has been paid.
How do I pay my unpaid fare?
If a payment is declined, we will try to repeat the transaction every few days by sending requests to your card issuer.
If the payment is successful, this could appear on your bank statement up to 30 days after you travelled.
My card is damaged
You'll need to contact your card issuer if your card is damaged and no longer recognised by card readers.
My card has expired
You'll need to contact your card issuer if your card has expired.
What if I'm crossing the Devon/Cornwall boundary?
All travel within the county of Cornwall with participating bus operators – including Plymouth Citybus and Go Cornwall Bus – will be capped at £5 for a day and £20 for a week.*
If you travel between Devon and Cornwall, or travel wholly within Devon, you will be capped at the equivalent Plymouth Citybus day or week zonal ticket. For example, if you travel between Saltash and Royal Parade, you will only be charged the equivalent Zone 1-2 day or week cap.
If you have any questions that aren't answered here, you can email tapandcap@plymouthbus.co.uk and we'll do our best to help.
*Prices based on travel within Zones 1 & 2. Prices for Dayriders in Zones 3 & 4 and Week tickets in Zones 3 & 4 are available on our website and on the Plymouth Citybus app.