Plymouth painters recreate a piece of Jubilee history
1 month ago Tue 31st May 2022
Retired painters Steve Hyde and Barry Pomeroy returned to Plymouth Citybus to reminisce about their first major job for the company – painting an open-top bus for the Queen's Silver Jubilee.
Steve and Barry had both recently finished their apprenticeships as painters, and were given the task of painting the bus ready for the Jubilee celebrations as their first major project.
Their foreman was a keen photographer in his spare time, and took some photos of Steve and Barry as they worked on the bus, making them a little piece of Jubilee history. Steve said: "We didn't realise the impact our work would have, and that it would still be being talked about all these years later."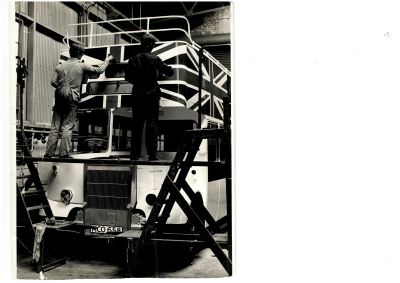 Both Steve and Barry spent around 40 years as painters, being given 198 hours to decorate a double decker, using three coats of paint. The Jubilee bus was an exception though, taking weeks to paint and make pristine.
The job has changed over time too, particularly around Health and Safety. Steve was not fond of heights, but the job meant getting up on the scaffold or going home. Barry didn't have a problem with heights, and didn't show much compassion for his work mate either! He said: "The scaffold plank ran the whole length of the bus and wasn't very wide. I used to jump on it to make it bounce and try to worry Steve! We had water fights and everything, the top deck would be soaked with water pouring out of the drainage vents!"

Despite this, Steve and Barry have remained great friends throughout their working life and beyond, even going on holiday together with their partners.
This year, the open top bus will be taking part in the Jubilee celebrations again, taking people from Plymouth's city centre to the Torpoint Ferry so they can join the Rame Beer and Buses event on Friday 3rd June.